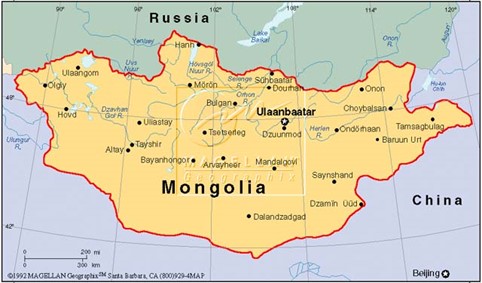 In 1986 Mikhail Gorbachev was instrumental in revolutionizing the trajectory in history of the Soviet Empire when he, along with others, engineered what became known as perestroika and glasnost. It was such a radical change, and in a sense the old empire disintegrated. There were great implications for Eastern and Central Europe, the Southern Republics from Azerbaijan in the west and Kirgizstan in the east, and for satellite countries such as Mongolia.
At that time the group I was working with had worked very closely with people in the International Assistance Mission of Afghanistan and with the United Mission to Nepal. Both of these were cooperative groups, and in those days, other Christian groups could only get in to work in Afghanistan or Nepal if they were a part of this unified effort.
These two groups knew about our work in collaborative partnerships facilitation, and they came to us in 1989, three years after the advent of perestroika and glasnost, because they were concerned that there was going to be chaos in Outer Mongolia as many well-intentioned Christian organizations came rushing in when the country opened up for evangelization. This had been the case a few years prior in the Soviet Union as the KGB and the Orthodox Church watched. Many good things had happened in the Soviet Union, but there were also many problems that the groups wanted to avoid in Outer Mongolia, particularly as no outsiders had been able to get into that country for 75 or 80 years.
At that time there were only two Christian expatriates in the entire country of Outer Mongolia; one was an British linguist and the other was a Finnish woman journalist.  There were only four known believers in the entire country, which had always been a sovereign separate nation from the province of China known as Inner Mongolia.
When the two groups asked for our help, we did some research and drew up an initial list of people who were interested in Mongolia.  As we continued our efforts we then went on to meet with the heads of 15 or 16 different ministries in 9 different countries over the next 18 months. It was not easy, because everyone had their reasons for why they had not worked together and why they felt the way they did, such as broken relationships among the believers and concerns about the security of their own organizations.
Remember, this was coming out of the old days of the Soviet Union, with secrecy and smuggling and horrific persecution. So many of those we met with were wary of collaborating with others, and a lot of efforts to try to bring people together had frequently been shipwrecked because of these issues. They simply didn't want to meet. In fact, I went to one face-to-face meeting in which there were about 15 people in the room and nearly everyone used a pseudonym! It was bizarre, but that was the environment.
Finally, after 18 months and thousands of dollars spent on community-building, we called a meeting at the old Salisbury Road YMCA in Hong Kong down by the Star Ferry. My wife and I arrived there three days beforehand for preparation, and we had the most terrifying, demonic manifestations of satanic power day and night in our room during those three days. There were absolutely spine-chilling, blood-curdling, terrifying things going on. Because of these encounters, we had people praying the blood of Christ over the YMCA, and we did some hand-to-hand combat with darkness.
Nearly 75 people who were united in their desire to see a transformation in Mongolia came in to attend the meetings. Many of them were senior Christian leaders from ministries from all over the world. One of the four Mongolian believers was also able to be there. I had brought a friend who is an international Christian leader, and he has a great gift of reconciliation and restoration. I had asked him to bring teams of people to help with reconciliation during the conference, and people from all around the world prayed for us all throughout the conference.
The meetings went on for four days from 8:30 in the morning to 8:30 or 9 o'clock at night. And then, because if all the broken relationships among these senior Christian leaders that needed healing, we had teams of people meeting with those who needed reconciliation every night from 8:30 or 9 o'clock at night until 4 or 5 the next morning, praying and talking with them. And I am absolutely convinced that the only reason we were able to restart every morning was because there had been enough progress in reconciliation during the night.
At the end, after three and a half days, despite all the brokenness and the terrible spiritual manifestations that had gone on, the group felt that they had identified enough things to validate the need to go forward. In fact, they identified three issues and wanted to put a task force together on each of these them. One denomination loaned a man and his wife to the fledgling partnership to be a facilitator, and we trained him.
Over the next three years we had the annual working meetings for this partnership in Hong Kong. Then finally, in the fourth year, the country began to open up and the security situation began to change. Some believers started coming to Christ, and within a very comparatively short time, the partnership decided to move the meetings into Ulaanbaatar, Mongolia. As soon as the partnership began working in the country, all of the emerging believers were invited into the partnership. And instead of doing communion, they had the famous yak milk ceremony – that was a little challenging for some of the people! But the new Mongolian believers saw them working together.
All kinds of things have been done to document the story of what God has been doing in Mongolia. There is a book called "The Miracle of Mongolia," and there have been videos done.  Some say there are now over 75,000 believers — certainly hundreds of churches led by Mongolian nationals.  There is a Mongolian Bible Society, and even Christian radio and television.  We have never written anything in detail about this; doing partnership work means behind the scenes, low-profile activity facilitating collaboration as a neutral, honest broker.  Trust is a critical factor.
Mongolia is a historically Tibetan Buddhist nation. When the Dalai Lama went to Ulaanbaatar in 2006, he had the largest crowd he has ever had at any public attendance anywhere in the world. It was not in India or in China, as you might expect; it was in Mongolia. So that's the kind of contest that we were in there.  And from the very beginning, the national believers saw the expatriate people from all over the world – Latinos, Indians, Filipinos, Americans, Brits, and others – working together. And we've gone from four to several thousand believers in less than one generation in a country that was totally closed for 1900 years!
The World Evangelical Fellowship was involved in those annual meetings, and I think that Mongolia's creation of a national fellowship of believers was one of the earliest formations in the history of a church being developed in a country. And that happened within 4 or 5 years of that first meeting in Hong Kong because the WEA intentionally played a low-key but always present role. They were willing to listen, talk to, and encourage the nationals, and the nationals saw that it was possible to work together.
Does this mean that there is just one single denomination in Mongolia today? No. Wouldn't that be wonderful if that was the case? There were Pentecostals, Presbyterians, Baptists, and people from all kinds of denominational backgrounds in the partnership, and their people paid for schools and hospitals, so many denominations are represented. However, there was a unified mechanism for the Mongolians to talk, work, and pray together. And we can look back now and say that the tremendous satanic opposition was a prelude to similarly remarkable breakthroughs.
The original partnership itself faced many challenges and gave birth to dozens of local and national evangelism and ministry initiatives.  When a place has been held by Satan for hundreds of years, we can't expect that change will come easily.  Satan will not just open the door and tell us to walk in; he's going to do everything possible to destroy the witness of Christ. And the place he always starts first, the most obvious place, is to destroy relationships among believers, and neutralize us.
And that's why Jesus, of course, says in John 17:20-23, "My prayer is not for them alone. I pray also for those who will believe in me through their message, that all of them may be one, Father, just as you are in me and I am in you. May they also be in us so that the world may believe that you have sent me. I have given them the glory that you gave me, that they may be one as we are one: I in them and you in me. May they be brought to complete unity to let the world know that you sent me and have loved them even as you have loved me."
A more detailed video account of the launch of this partnership can be viewed at: https://www.youtube.com/watch?v=MEkwlyWIv3Y
Map of Mongolia graphic from www.enciclopedie.interactiuni.ro